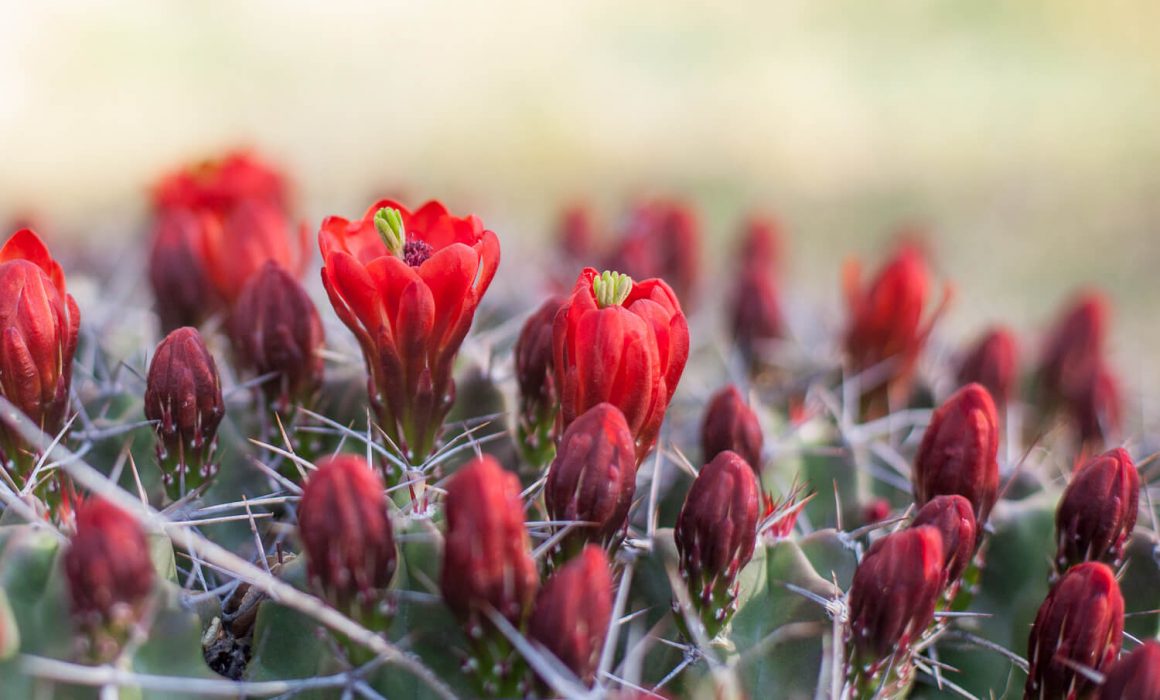 Deserts contain more than just sand dunes and cacti. Remarkable plant adaptations have resulted in a diverse array of habitats in the high desert of northern New Mexico. Silvery green grasses and shrubs carpet the red hills and dark evergreens punctuate the landscape surrounding Ghost Ranch. Mesas and buttes rise up from the desert floor; their crevices and nooks offering tenacious plants a home. Dark mountain vistas loom in the distance; their wetter slopes home to towering ponderosa pine. A visit to Ghost Ranch is an opportunity to explore and learn about the plants of the high desert.
The Habitat:
Several different habitat types exist at Ghost Ranch, including great basin scrub,  piñon-juniper, and montane riparian. Piñon-juniper woodlands are one of the most common habitats in northern New Mexico and the southwestern United States. They cover "15% of the land area in 5 states—Arizona, Colorado, Nevada, New Mexico, and Utah"
according to the National Park Service
.
You'll be in this habitat most often at Ghost Ranch, as the visitor center, cabins, and campground reside among the piñon pines and junipers. It's not a dense forest where the tree canopy shades the ground. Instead, it is quite open and is composed of low, bushy junipers (Juniperus spp.) and piñon pines (Pinus spp.) that are interspersed with shrubs and grasses. Common shrubs include mountain mahogany (Cercocarpus montana) and gambel oak (Quercus gambelii). Grasses like blue grama (Bouteloua gracilis) and New Mexico muhly (Muhlenbergia pauciflora) grow between the shrubs and trees. As elevation increases, the trees grow more densely and the grass more sparsely. A sharp, clean pine smell permeates the air as you explore the trails. A pleasant aroma I didn't expect in the desert.
Pockets of great basin scrub habitat exist in the valleys throughout the southern Rocky Mountains of New Mexico. In some locations, there is a fine distinction between great basin scrub and pinon-juniper woodland, as many plants straddle both habitats. Differences in elevation, precipitation, soil, and terrain dictate where a plant will grow. Big sagebrush (Artemisia tridentata) and other shrubs like rabbitbrush (Chrysothamnus spp.) grow abundantly at Ghost Ranch. In spring, the dried, yellowed stalks of broom snakeweed (Gutierrezia sarothrae) still remain on the plant. Even though new growth has yet to come in, the dried plant is beautiful when illuminated by the sun.
The Arroyo del Yeso flows through Ghost Ranch and its riparian habitat is home to large cottonwood trees. In the early spring, their vivid chartreuse leaves are a stunning contrast to the red earth. Cottonwood trees also grow around the main building complex and provide much-appreciated shade.
Wildflowers in Bloom:
Unlike the abundant dogwood and redbud blossoms that blanket the forests of the northeast, wildflowers in the desert are more discrete. Their diminutive flowers are often fleeting, only opening when conditions are just right. Rain is the key ingredient in the desert and Ghost Ranch receives on average just 10 inches of rain per year. In dry years, some plants may not have the energy to bloom heavily and only put forth a few flowers–if any.
Luckily, my visit occurred during a year with slightly above average rainfall. The plants responded in turn and I was lucky to see many plants blooming. However, my finds did not always come easily; an observant eye is necessary. Many flowers were found hidden among the grasses or in the shade under trees and shrubs.
Below are some of my favorites plants at Ghost Ranch. I was able to identify most of them, but some still allude me. (If you know what they are, leave a comment please!)
Thrift Mock Goldenweed (Stenotus Armerioiddes)
A charmer for sure, this yellow flower grew throughout the grounds and brought a smile to my face every time I saw it. As thrift mock goldenweed grows, the round basal rosette expands up to 20 inches across. Above the rosette, it produces an abundance of yellow flowers in the spring. I found a stunning specimen blooming profusely on the Chimney Rock trail during a sunset hike. The cheerful flowers were the perfect companion to the golden hues of the setting sun.
Featherplume (Dalea formosa)
While small, the vivid purple and yellow flowers of featherplume are eye-catching. At first glance, I didn't realize it was a shrub, as the plants I found were rather small. But featherplume is actually a low-growing, colony-forming shrub that reaches 2-3 feet in height. Close inspection of the flowers reveal that it is a member of the fabaceae (pea) family. The shrub blooms profusely in the spring and in ideal conditions it may produce a second flush of flowers in September.
Rose Heath (Chaetopappa Ericoides)
Rose heath is widespread across the western United States and I frequently saw it growing along the trails that traversed Ghost Ranch.  While the plant blooms in profusion, the white flowers are short-lived. The day after the photograph above was taken, the flowers were shriveled and spent.
Indian Paintbrush (Castillejas spp.)
Fluorescent red and orange Indian paintbrushes are a common sight throughout the western United States. With more than 60 species, you can find them growing in diverse habitats that range from the desert to the forest edge. Most often you'll see a red and orange species, but there are species that produce yellow, cream, green, or rosy pink bracts. While some are easy to distinguish, many are incredibly difficult to identify. Unfortunately, I wasn't quite sure which I saw at Ghost Ranch.
As a root hemiparasite, you'll almost never see a
castillejas
growing alone. Their roots will drill into the roots of another plant and steal their water and nutrients. It's a fascinating plant; learn more about them at the
Olive Tree's blog
.
Navajo Yucca or Bailey's Narrow Leaf Yucca (Yucca baileyi)
There are at least 50 species of Yucca found in North America. They're distributed over a wide area that ranges from Canada to South America. New Mexico alone is home to approximately 40 different species. The yucca plant is such a familiar sight in the New Mexican landscape that state legislators designated it the state's flower. While yuccas are common across New Mexico, I saw just one species of yucca growing at Ghost Ranch: Navajo Yucca (Yucca baileyi). The narrow, pointed leaves of the Navajo yucca form a 12-18 inch rosette. Use caution when examining the plant, as the greenish-yellow leaves are quiet sharp, almost needle-like.
The Navajo yucca blooms earlier than other yuccas and produces stalks that are two to three feet in height. Like most yuccas, it has creamy white flowers. According to the
Southwest Colorado Flower Blog
, the
Yucca baileyi
is "quite similar to
Yucca angustissima, Yucca harrimaniae
, and
Yucca glauca
" and can be difficult to identify. I can attest to that! It took many hours to properly identify the yucca I saw at Ghost Ranch. As noted on their website,
Yucca baileyi
commonly colonizes and produces groups of several rosettes. I found several colonies growing along the Chimney Rock trail.
Cactus at Ghost Ranch:
The towering branches of a saguaro cactus quickly come to mind when you think of the desert. But the cacti of northern New Mexico aren't quite as conspicuous as the ones that grow in the southern Sonora desert. The high elevation and cooler temperatures create a habitat that's not suitable for many of the larger cacti.
But cacti do grow in northern New Mexico–it is a desert after all-and I was lucky to find a few on my hikes. At Ghost Ranch I saw Echinocereus triglochidiatus, Opuntia phaeacantha, and Cylindropuntia imbricata. Few were blooming in the early spring, but I enjoyed examining these plants. They're a stark contrast to the plants I normally see in Western Pennsylvania.
Claretcup, Kingcup Cactus (Echinocereus triglochidiatus)
In early May, the only cactus species blooming at Ghost Ranch was Echinocereus triglochidiatus, also commonly known as claretcup, Kingcup, or Mojave mound cactus. It's a common, widespread species that is native to the southwestern United States and Mexico. It blooms abundantly with showy scarlet red or orange flowers.
At Ghost Ranch, there's a large 30-inch wide specimen near the Pack memorial trailhead. As I explored the grounds at Ghost Ranch, I also noted several small claretcup cacti blooming; their red flowers would peek through the grass. The beautiful orange specimen was observed near the top of the Chimney Rock trail.
Cholla Cactus (Cylindropuntia imbricata)
A disjointed, leggy figure, Cylindropuntia imbricata or cane cholla cactus is easily noticeable rising up from the grasses at Ghost Ranch. It can grow up to 8 feet tall with many stems branching from a central stalk.
Desert or Tulip Prickly Pear Cactus (Opuntia Phaeacantha)
Hidden among the grasses are the spiny pads of Opuntia Phaeacantha. A low, spreading prickly pear cactus that reaches only 2 to 3 feet in height, it blends in well with it's surroundings. I observed it growing throughout Ghost Ranch, hidden in the brush along trails or more prominently growing on slopes. I wasn't fortunate to see any of their spectacular flowers, as they bloom in late spring and early summer.
In the desert, spring is a time of rebirth; the dry and seemingly barren landscape bursts into life. For a fleeting moment, the earth is lush with new growth and beautiful blossoms. It is a remarkable example of the tenacity of plants and their ability to survive and thrive in harsh environments.