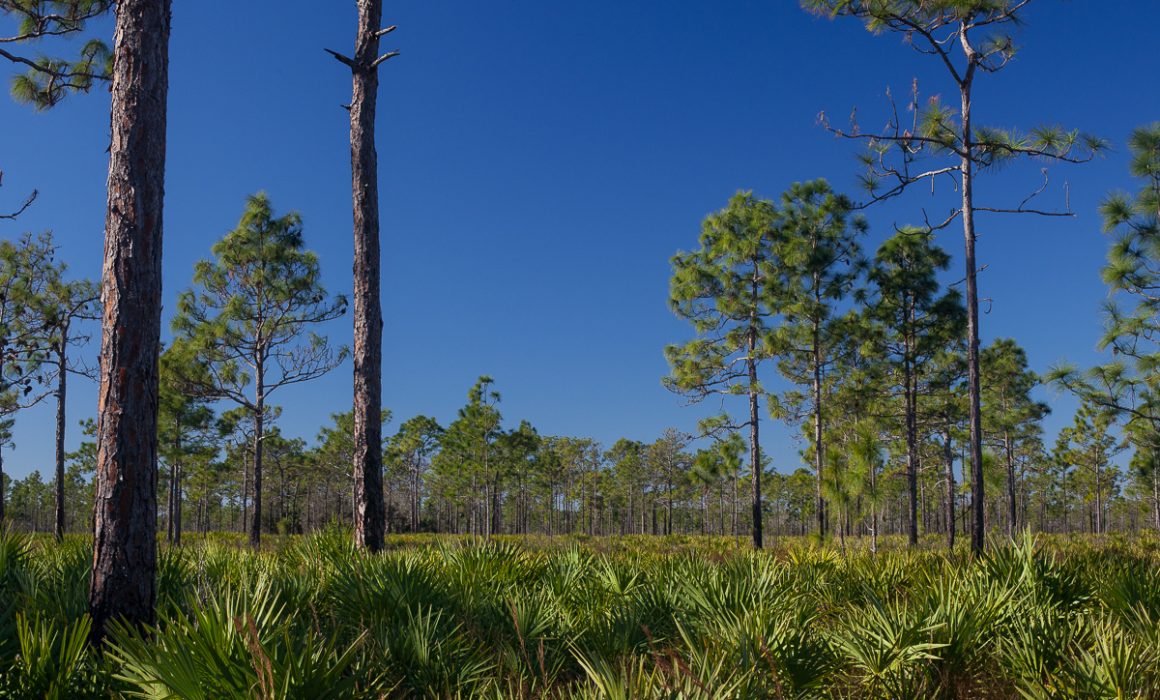 The vast open prairie and pine flatwoods provide little shade at the Hal Scott Preserve and Park. On a cloudless day, the sun is relentless. Sunscreen is a must. I wouldn't recommend visiting in the heat of summer. But on a cool winter morning, the sun's warmth is welcome.
For hours, I walk alone through a never-ending sea of saw palmettos. The sharp leaf segments of the palm fans surround me, their tips catching the sunlight. They glow an intense—almost unnatural—chartreuse.
Located on the banks of the Econlockhatchee River, the Hal Scott Preserve protects 9,387-acres of pine flatwoods and open prairies. Three trail loops allow visitors to explore the preserve's diverse ecosystems. Together, the white, yellow, and red loops total approximately 16 miles. I used Florida Hikes' trail map and hiking directions to explore the preserve. Florida Hikes is a fantastic resource for anyone who wants to visit Florida's natural treasures.
The multi-use trails are wide (they're actually service roads) and are commonly used for bicycling, hiking, and horseback riding. But, I didn't see another soul during my visit.
The Hal Scott Preserve is a place of solitude that invites quiet reflection. Under the bright blue sky, it's just you, the plants, and maybe an alligator or two. There's peace amidst the statuesque longleaf pines. When not lost in thought, the hike provides ample opportunities to examine and photograph the plants.
On the surface, it appears as if the ground is carpeted with saw palmettos (Serenoa repens). But a closer look reveals that other plants call this prairie home. Wiregrass (Aristida stricta), bottlebrush three-awn grass (A. spiciformis), and other grasses grow abundantly beneath the palmettos and soften their sharpness. Wildflowers bloom year-round in Florida. In January, I caught glimpses of several natives, including largeflower rose gentian (Sabatia grandiflora) and Florida's state wildflower, leavenworth's tickseed (Coreopsis leavenworthii).
The scenery doesn't change until you reach the tree line. There, the pines are joined by live oaks, bald cypresses, and sweetgums, which grow along the Econlockhatchee River and its tributaries. In the dappled shade, Tillandsias cling to the tree trunks. Many more dangle from branches; their roots nearly fused to the bark. The trees look furry, reminiscent of what you might find in a Dr. Suess' book. I left Orlando searching for wilderness, and I was happy to find it here.
The Hal Scott Preserve and Park is an easy 30-minute drive from downtown Orlando. If you seek a quiet, reflective space away from the strip malls and crowds in Orlando, you'll find it here. Unlike many Florida parks, there is no fee to visit the Hal Scott Preserve and you can visit from dawn until dusk.