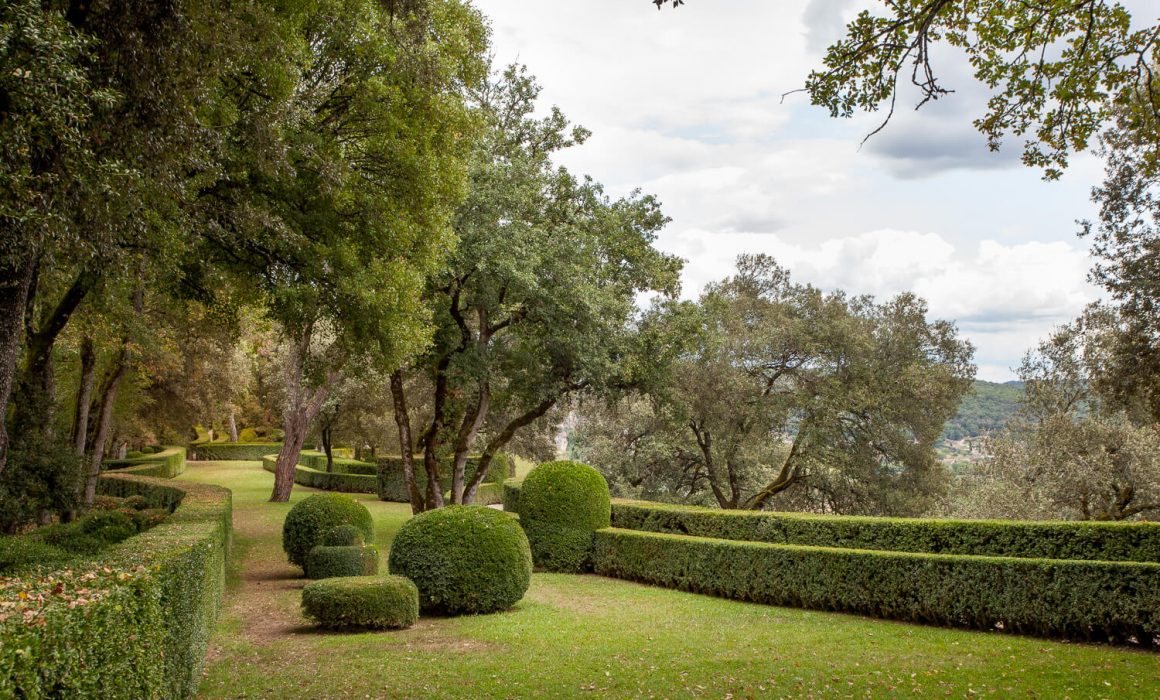 The Promenades of Marqueyssac
It's easy to spend hours exploring the grounds of Marqueyssac. Three promenades cut through the park-like estate, parallel to the cliff edge. After exploring the labyrinth of boxwood topiaries, you can take any of the promenades to reach the belvedere. But I recommend starting with the Promenade des Falaises, which is closest to the edge of the cliffs. The promenade begins near the edge of the bastion; look for the path that runs between two long, straight boxwood hedges. This will lead you to an elegant stone chapel that was constructed by another owner, Julien Bessières, in the 1930s.
Past the chapel, the promenade continues through rock outcroppings and holm oaks (Quercus ilex). Breaks in the trees provide glimpses of the Dordogne River below. Farms dot the landscape and you can spy the straight rows of the region's famed black walnut groves.
At the end of the Promenade des Falaises is a small grotto. A trickle of water flows down a boulder to a small pool below. Once you've reached the grotto, double back a short distance to a small staircase. From there a path climbs to the belvedere.
Views from the Belvedere
The expansive views from the belvedere are breathtaking. Gentle rolling hills fade into the horizon and at the base of the cliff, the Dordogne River meanders past farms and castles. Thanks to the 100 Years War, this valley is a hotbed of medieval castles. From the belvedere, you can see the castles of Beynac, Castelnaud, and Fayrac, and the small village La Roque de Gageac.
After taking in the beauty of the French countryside, return to the chateau via the Grand Allée. Once used for horseback riding, this broad promenade cuts straight through the forest. On one side the forest descends into a valley. And on the other, a rough stone wall runs the length of the wide path. Keep an eye on the stone wall for narrow staircases that lead to the Promenade des Hauteurs, which cuts through the center of the forest between the two promenades.
Not as defined as the others, the promenade seems to meander through the forest from one clearing to another. Eventually, it leads to an arch in an unruly boxwood hedge. Through the arch, the path continues beneath a canopy of curved branches that form a tunnel through the woods. An holm oak forest is a dark one; dense shade and high-humidity promote the growth of lichen and mosses on the branches.
After another small clearing, the forest thins. The gnarly branches disappear and are replaced with simple wooden structures that form the Allée des Arches. Stroll along this path or drop back down to the Grande Allée to return to the chateau. Whether you're a lover of intricately sculpted topiaries or enjoy contemplative walks through the woods, the Gardens of Marqueyssac will delight you.