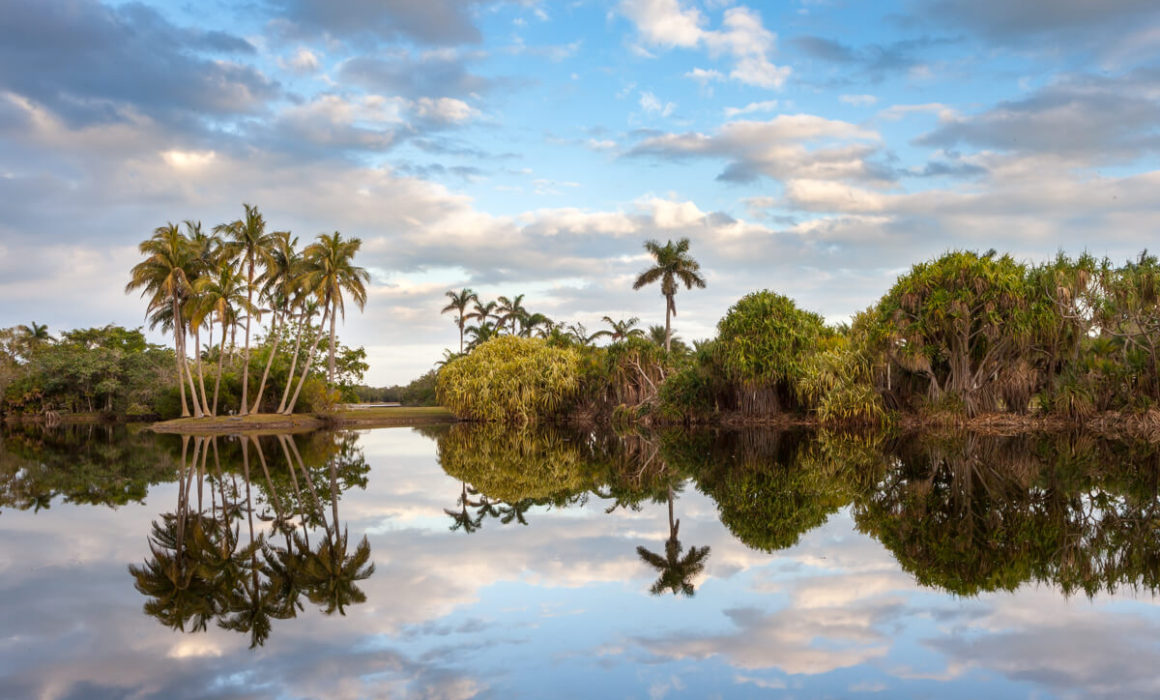 A visit to the Fairchild Tropical Botanic Garden is a visit to the far reaches of the world. As you walk through the 83-acre garden, you're transported from tropical rainforests to pine rocklands to the forests of Madagascar. Located in Coral Gables, Florida, warm winters and wet summers allow palms, cycads, tropical trees, and flowering shrubs to thrive. The garden is home to one of the largest collections of subtropical and tropical plants within the continental United States.
Fairchild Tropical Botanic Garden has been on my bucket list for several years, and it's lived up to its fame. If you're planning a winter escape to South Florida, you need to add this tropical paradise to your itinerary.
A New Garden is Born
A passionate plantsman, Dr. David Fairchild traveled the world searching for exotic and rare plants. He introduced thousands of plants to the United States during his 37-year career with the U.S. Department of Agriculture. Many of these plants are now part of our everyday lives like avocados, quinoa, dates, mangoes, and soybeans to name a few. Others found their way to his home, The Kampong, in Coconut Grove, Florida.
In South Florida, Fairchild was not alone in his passion for tropical plants. He found companionship with like-minded plant collectors, conservationist, botanists, and horticulturists, like Col. Robert H. Montgomery, Marjory Stoneman Douglas, Isabel Burns, Charles H. Crandon, and landscape architect William Lyman Phillips.
They recognized the need for a public tropical botanical garden. There, people could admire the beauty of tropical plants and also learn of their usefulness. The garden grew from Montgomery's generous donation of land and funds. He named the garden after his friend, who provided inspiration for the garden. They built a botanical garden unlike any other in the continental United States.
Classic American Landscape Design in a Tropical Paradise
There's an element of mystery at Fairchild Tropical Botanic Garden. This is especially true for us Northerners who aren't very familiar with tropical plants. You're led along winding paths and through wide promenades towards garden rooms, never quite certain what you're about to discover. Flowering shrubs laden with exotic blossoms are found on the edge of clearings. Climbing vines and strangler figs tightly grasp tree trunks and branches in their pursuit of sunlight.
The gardens were designed by William Lyman Phillips. A student of Frederick Law Olmsted, Phillips incorporated many of his design principles into his plan for the Fairchild Tropical Botanic Garden. He organized the garden according to Olmsted's principles of variety, consistency, and contrast.
There's also a strong influence of the "Picturesque" style, which emphasized the interplay between light and shadow. During my visit, I meandered along shaded paths, which were a welcome respite from the hot Florida sun. Like the light at the end of a tunnel, bright clearings pull you through the landscape.
While there is an overarching organizational scheme, it's not immediately clear when you enter the garden. This isn't a formal French garden. But rather, the design evokes the wildness of a tropical rainforest. Phillips' design centers on a careful balance between open and forested spaces, both small and large. These clearings are used throughout the garden to provide both order and intimacy. Instead of carefully planted flower beds, the gardens are naturalistic. By not defining specific forms or vegetation masses, he gave the garden freedom to grow and evolve. The overall design composition was more important than the details.
There are some formal elements within the garden, like the Palm Glade, Amphitheater, and Overlook. Here, you're given views of broad tropical vistas with palm trees mirrored in the lakes.
Trees at Fairchild Tropical Botanic Garden
The garden contains an interesting juxtaposition of forms. Solitary palms stretch towards the sky and erupt in a crown of fronds. Their trunks are unbranched and nearly as straight as an arrow. Hardwood trees couldn't be more different. Sprawling arms extend laterally and create dense canopies that tent the earth. Long, twisted branches reach and grasp. Some towards the sky and others down towards the ground.
Palms punctuate the canopy and grow between tree branches. Surrounding the hardwoods like fence posts. In the understory, you find shorter palms and cycads that prefer the shade.
Native southern live oak (Quercus virginiana) grow alongside trees from Thailand, Indonesia, Brazil, and Madagascar. Interesting specimens include a sausage tree (Kigelia africana), huge cluster figs (Ficus racemosa), Pacara earpod tree (Enterolobium contortisiliquum), and a cannonball tree (Couroupita guianensis) laden with heavy fruit. Prized among the collection is a giant baobab tree, which was collected by Dr. Fairchild himself.
The Montgomery Palmetum
Situated on 13 acres, the world-renowned Montgomery Palmetum contains nearly 700 different species and showcases palms from around the world. The palms are organized into various plots based on their taxonomic relationships. These plots are like islands within an expansive green lawn. You're free to meander and walk around the plots, which allows you to study similarities and differences between the genera. Caribbean palms and those endemic to Cuba and the Island of Hispaniola are well represented within the collection. You'll find Coccothrinax crinita, C. spissa, Copernicia glabrescens, C. baileyana, C. macroglossa, and Gastrococos crispa. Other plots were home to Rio Grande palmetto (Sabal mexicana) and Puerto Rican hat palm (S. causiarum).
Palms were a passion of Montgomery. So much so, that he also had a massive collection at his estate, which is now the Montgomery Botanical Center. He donated many plants from his own collection to the Fairchild Tropical Botanic Garden.
Sunset within the Montgomery Palmetum is a fitting conclusion to a visit to Fairchild Tropical Botanic Garden. The tall, straight trunks stripe the lawn with their shadows. Large fronds act as sails that catch the setting sunlight. Green light floods the landscape, surrounds you, and colors you at this beautiful eden in South Florida.